Ikenna "Shaky" Aghanya was born in Oct. 1972. He had his secondary education at the Federal Govt. College Enugu from 1983 - 1989. In 1990 he was admitted to study Fine Arts at the University of Uyo, Akwa Ibom State. He graduated with honours in 1995, with a B.A Degree in Fine & Industrial Arts, specializing in Graphics/Advertising Designs. He worked as a Graphic Designer for Niconeng Limited from 1996 - 1999. In 1999 he was awarded a scholarship to study for an MFA Degree in Computer Graphics at the prestigious College of Fine Arts, University of the Philippines, Diliman, Metro Manila, the Philippines. In 2001, he was awarded the M.F.A Degree, specializing in Computer Graphics. He returned to Nigeria in 2002 and got an appointment at the Federal Poyltechinc Oko as a Digital Art lecturer. He is presently still lecturing at the same Polytechnic. As an accomplished artist, with exhibitions in Nigeria, Brunei, the Philipines, the UK, the USA and Korea, Ikenna belongs to a number of International and Local Art organizations, most notably the E-Art Philippines, CFA Alumini group (University of the Philippines), The Society of Nigerian Artists, just to mention a few. He is also the CEO of PrintPlus, a Graphic Design firm.

Ikenna is presently working on ways to fuse the use of technology (as an art tool) and traditional art techniques, into one Art structure or style. This technique can be seen in most of his recent Art works. In 2001, as part of his MFA thesis work, Ikenna embarked on using the fusion of digital printed images on canvas and acrylic paint to do some social commentary paintings/posters on the problems in his home country, Nigeria. Most of the works produced were collected by the Museum of Contemporay Arts, University of Philippines, the Nigerian Embassy in Manila, Philippines and the UNICEF office in Manila.
He hails from Amawbia in Anambra state of Nigeria. He is happily married with kids. Most of his personal works and exhibition pictures can be seen on his personal website www.geocities.com/iyke70
IKENNA'S WORKS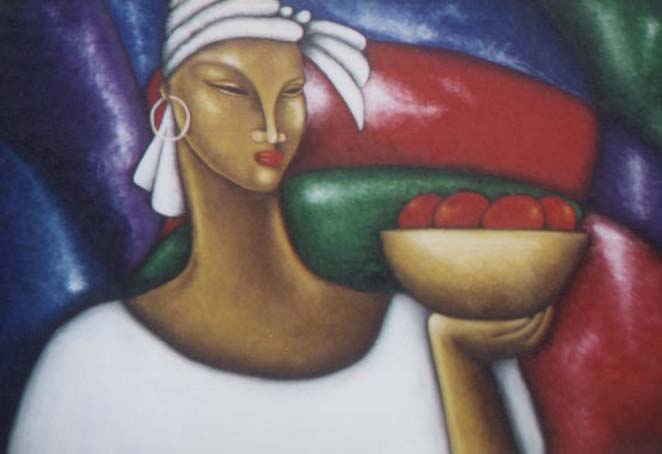 TITLE: The Fruit Seller 1
SIZE: 4feet by 3feet 2inches
MEDIUM: Oil on Canvas
DATE OF COMPLETION: August 2000
PRICE: SOLD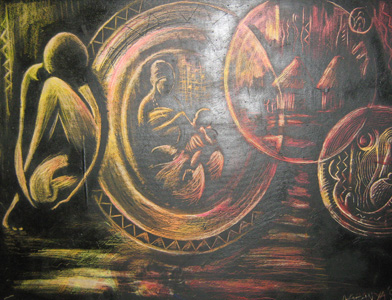 TITLE: Reflections: Life's Journey
SIZE: 4feet 4inches by 3feet
MEDIUM: Etching on Painted Wood Panel
DATE OF COMPLETION: March 2006
PRICE: N45,000.00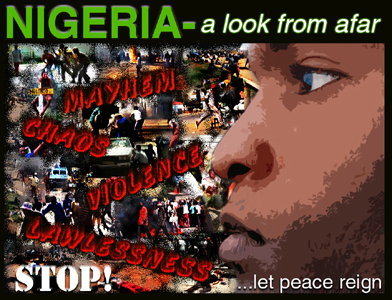 TITLE: A Look From afar
SIZE: 36 inches by 24 inches
MEDIUM: Digital Imaging and Acrylic on Canvas
DATE OF COMPLETION: Jan. 2001
PRICE: SOLD (Embassy of the Fed. Republic of Nigeria, Manila, the Philippines)
BRIEF DESCRIPTION OF ARTWORK: Nigeria's first year of democracy began and ended in scenes of bloodshed. Within days of President Olusegun Obasanjo's inauguration on 29th May 1999, violent clashes erupted in the Southern oil town of Warri, leaving dozens dead. Exactly two months later, it was the northern City of Kaduna which was once again in a state of shock, as heavy fighting broke-out in that area, resulting in at least 100 deaths. While still celebrating the new freedoms associated with the restoration of democracy, some undisciplined Nigerians throw caution to the winds and take laws into their hands by killing and destroying government and public properties at will. Many patriotic Nigerians have been forced to think long and hard about the country's future. Are we actually ready for democracy? Could these scenes have occurred under military rule? Where do we go from here? A wake up call is needed; we all must let peace reign.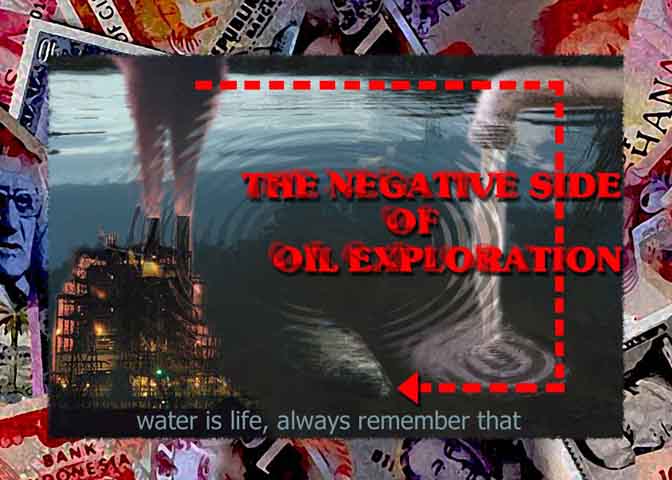 TITLE: Oil Exploration: The only way forward?
SIZE: 36 inches by 24 inches
MEDIUM: Digital Imaging and Acrylic on Canvas
DATE OF COMPLETION: March. 2001
PRICE: SOLD (UNICEF Office, Manila, the Philippines)
BRIEF DESCRIPTION OF ARTWORK: Oil Exploration brings so much wealth to a nation. Most Nigerians are carried-away by the tremendous oil revenue (foreign exchange) which her various oil wells are generating, and nobody stop's to think about the adverse affect (water pollution) that arises from oil exploratory activities. Many rivers and streams in the south-south region of Nigeria are so polluted due to the negligence of oil companies, which in turn leads to frequent oil pipe-line leakage and this renders the aquatic life of these areas virtually in a non-existent state. Water is life, we should always remember that.
TITLE: America's Invention to Discourage Sex?
SIZE: 36 inches by 24 inches
MEDIUM: Digital Imaging and Acrylic on Canvas
DATE OF COMPLETION: May 2001
PRICE: SOLD (Museum of Contemporay Arts, University of the Philippines, Diliman Campus)
BRIEF DESCRIPTION OF ARTWORK: Many Nigerians still believe that AIDS is just a way or means by which the developed nations (especially the United States) are using to discourage people in developing countries, to abstain from sex in other not to further increase the population of their respective countries. As at December 2000, 2.6 million Nigerian adults are infected with the HIV virus. This alarming figure represents 8% of the global number of people affected by the AIDS scourge. AIDS is real and it's not a way to discourage us from having sex. The need to let the Nigerian public know about this is highly needed.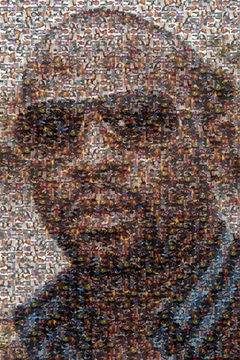 TITLE: Self Potrait
SIZE: 3feet by 2feet
MEDIUM: Digital Mosaic Print on canvas
DATE OF COMPLETION: June 2009
PRICE: PRIVATE COLLECTION