Christophe Okafor Nkem was born in Feb. 1981. He had his secondary education at the Muslimi College Egbe, Lagos. He was admitted to study Economics at the Nnamdi Azikiwe University, Awka Anambra State, were he graduated with honours in 2007, with a B.Sc Degree in Economics. He is a self-taught artist, having no formal training in Arts in the begining. He later enrolled at the National Theater, where he studied painiting. He is presently researching on alternative materials to use in his very unique painting style. His hobbies include Painting and playing his Guitar. As an accomplished artist, with exhibitions in Nigeria and a lot of commisioned projects, Christophe stll strives to be a better artist.

Christophe presently works from his studio, located on Arthur Eze Road Awka. His works could be seen in Homes, Hotels, Banks and a good number of Governmental offices all over Nigeria as well as outside Nigeria.
He hails from Delta State of Nigeria.
CHRISTOPHE'S WORKS
TITLE: Reflection
SIZE: 3feet 7inches by 2feet 4inches
MEDIUM: Oil on Canvas
DATE OF COMPLETION: Jan. 2007
PRICE: N38,500.00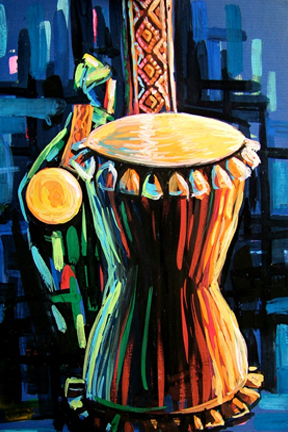 TITLE:The Drummer
SIZE: 3feet 6inches by 2feet 4inches
MEDIUM: Oil on Canvas
DATE OF COMPLETION: June 2007
PRICE: N32,000.00
TITLE:"Nlecha"
SIZE: 3feet 11inches by 2feet 4inches
MEDIUM: Oil on Canvas
DATE OF COMPLETION: Aug. 2008
PRICE: N17,500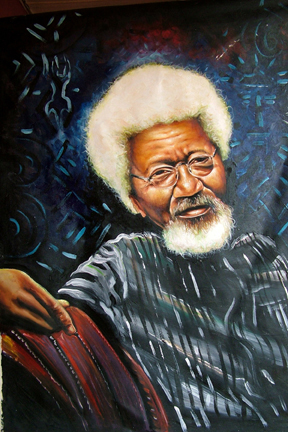 TITLE: Potrait of Wole Soyinka
SIZE: 3feet 11inches by 2feet 9inches
MEDIUM: Oil on Canvas
DATE OF COMPLETION: July 2008
PRICE: N40,000.00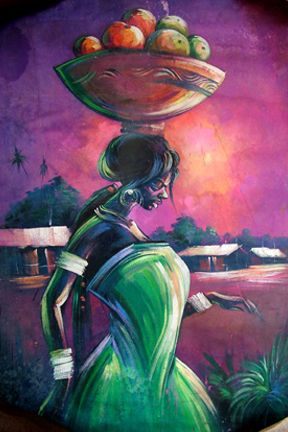 TITLE: The Fruit Seller
SIZE: 3feet 6inches by 2feet 4inches
MEDIUM: Oil on Canvas
DATE OF COMPLETION: May 2009
PRICE: SOLD
TITLE: Our Culture
SIZE: 3feet 6inches by 2feet 4inches
MEDIUM: Oil on Canvas
DATE OF COMPLETION: June 2009
PRICE: N41,000.00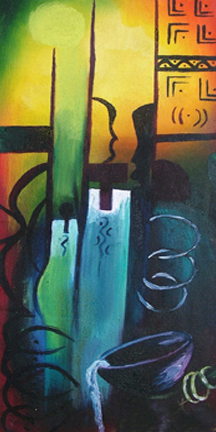 TITLE: The Wedding
SIZE: 1foot 2inches by 10inches
MEDIUM: Oil on Canvas
DATE OF COMPLETION: Jan. 2006
PRICE: N5,850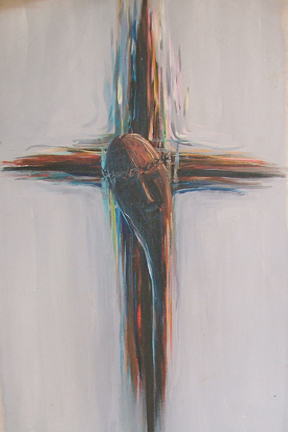 TITLE: Crucifixtion
SIZE: 2feet 5inches by 1foot 4inches
MEDIUM: Oil on Canvas
DATE OF COMPLETION: Feb. 2009
PRICE: N8,900.00